Family Inheritance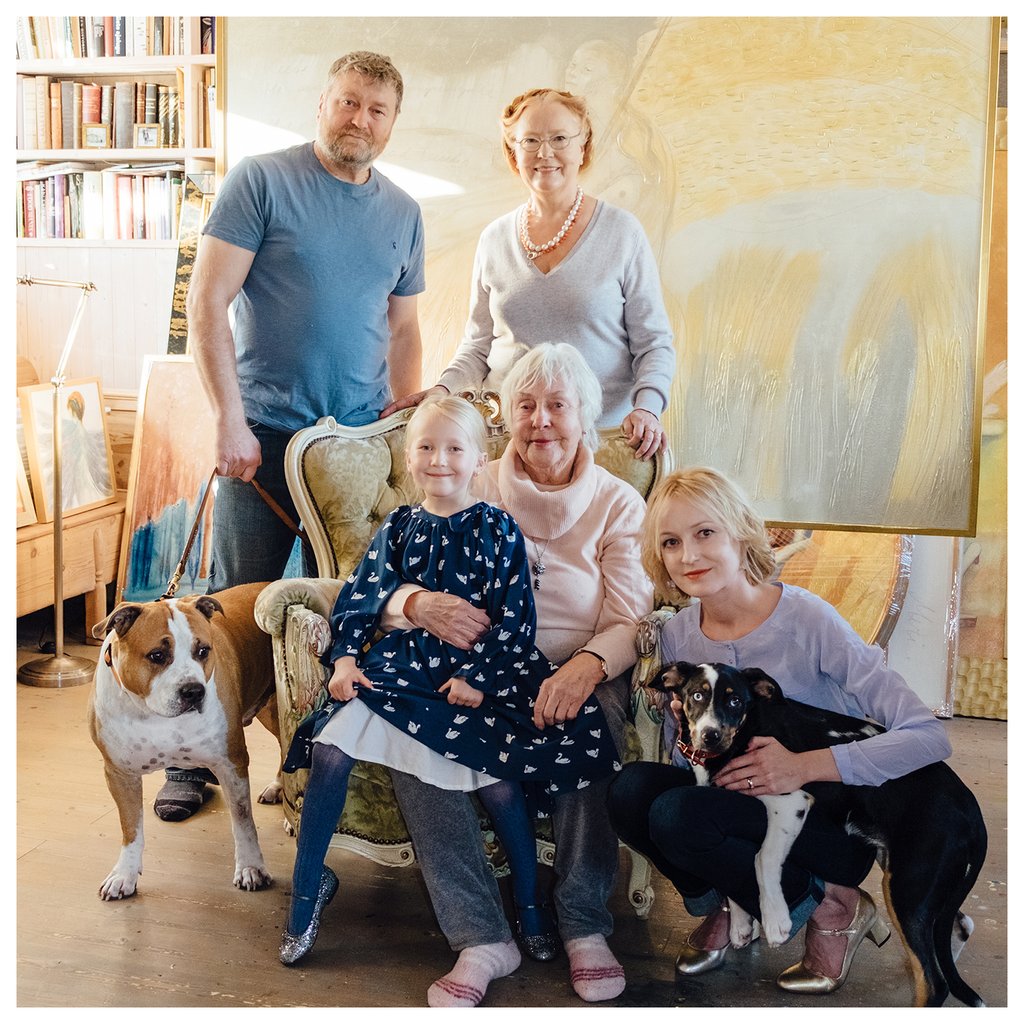 Three generations of artists of one family
I am a third generation artist in the family. My parents Epp Maria Kokamägi and Jaak Arro and my grandparents from my mother's side Imbi Lind and Luulik Kokamägi are all artists. At first I wanted to make "a proper living doing a proper job" - so I went to study political science in Helsinki University. In order to earn a living for my studies in Finland I did all sorts of odd jobs. And then one night after a phone call with my mother I realized how much I had actually missed the environment where I had grown up in.
I missed my granddad Luulik's studio with a view over Tallinn's Old Town roofs and towers and where music always streamed in even from the closed windows, as there was a music school next to it. The stump of wood where I used to knock nails into so that he could paint in peace. My mother had knocked nails into it for the same reason when she was a child. Luulik has a solid place in Estonian art history, his works are in the Art Museum of Estonia and in the Tretyakov Gallery in Moscow among others.
I missed my grandma Imbi's painting corner in her flat, where one of my favourite sounds was the noise and squeaks of trams passing by. They made me fall asleep easily. Otherwise she worked in Estonian Film all her life as an artist and decorator, so many of the most beloved characters in Estonian movies are dressed by her.
I missed my mom Epp Maria's smell of oil paints in our room – children's room was the biggest room in our flat, where she used to paint. And the music that played louder than life: Leonard Cohen, David Bowie, Arvo Pärt, Sade, Tanita Tikaram, Caruso and many more. Characters from her paintings, winged and earthly, almost always women. Heavenly army, against the wind, first snow are fragments from my mother's painting titles, that are with me every day and have taught me to fight and to be present, right here, right now. Her paintings are also in different art collections around the world, including the Art Museum of Estonia and the Tretyakov Gallery in Moscow.
I missed my dad Jaak's all kinds of interesting projects in theatres and puppet film studio, his performances and exhibitions. When my father was working on an enormous piece in a theatre, I could roam the endless corridors there and I especially liked the sewing rooms, where I was sometimes given a piece of shiny fabric for my doll's clothes. My father's works are also in the Art Museum of Estonia and in different art collections around the world.
So I decided to return to Estonia to study ceramics, simultaneously graduating my political science studies in Finland. Till then I didn't think I would become an artist too. I have been doing ceramics since 2002, I opened my own studio in 2005. I have had exhibitions at home and abroad. My sink with lilacs is in the collection of Estonian Museum of Applied Art and Design.
Arro Porcelain will carefully create unique pieces of tableware with the magnificent works of art from the members of my family and I try my best to convey that something that cannot be put into words but that can only be felt as that magic that gives life and feelings to objects we use every day!
Liisu Arro
Ceramist and founder of Arro Porcelain